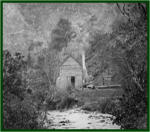 The history of this area goes back many generations to long
before pre-european times but it is only since then we have
some written and pictorial references so I will start from the
mid 1800's when

Tapu

was known as

Hastings.

This was a
period devoted to the extraction of gold and timber, mainly
Kauri, to later have the hills stripped bare and planted in
grass for sheep. Not a good look. In the process of this the
Tapu

area was a thriving community of the rough and ready,
gold miners looking for riches in the gold rush of 1867. During
the same period the plundering of the Kauri trees for sale to
whoever continued as it had since the mid 1700's along with
the extensive hunt for Kauri Gum.
Mahara Sculpture Park

took it's name from the original
Mahara Royal

gold mine in the hill behind the park, an area
still riddled with old mine shafts. The mine eventually failed
through lack of adequate pumping equipment to keep the
waters at bay but it did support a stamping mill as shown
below.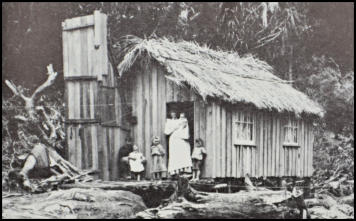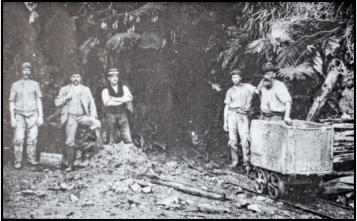 One of the 60 to 70 mines of the time.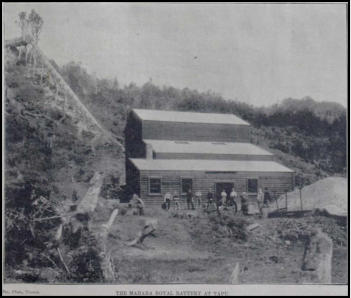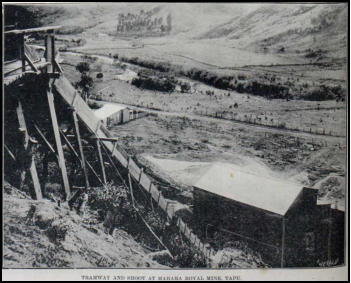 In these early years there was at best only a bridle track
across the hill to

Coroglen

and it wasn't until the early
1920's that out of work miners/foresters were employed to
make it into a vehicular road and it was not until 1963 a main
access across the peninsular. By this time much of the valley
had been subdivided into smaller lot's, one of which became
the Mahara Sculpture Park, but not without struggle.
The original pottery and house, an old miners cottage, was
down near Te Kaka stream but the big flood of 1985 put
feet of silt through the place and it had to be abandoned.
This left

Heather

and family in a dire predicament but with
help and lots of grit and determination the foundations of
what was to be the sculpture park were laid with the end
result being the

Magic of Mahara

as can be experienced to
this day.
Click the images below for bigger versions.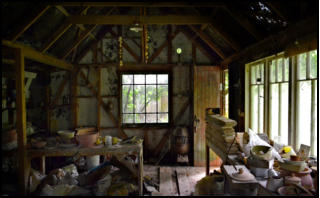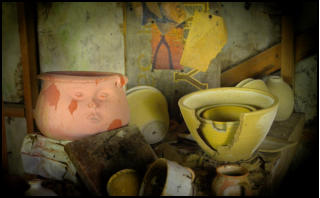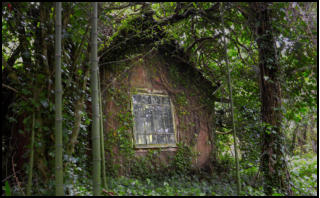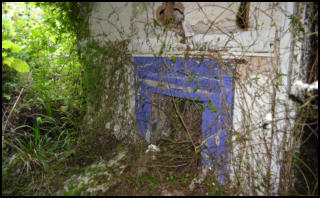 Defunct Miners cottage, Heathers old home